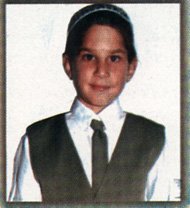 Haim Hanania Yakov ben Arieh and Nurit Mandelcorn was born the 24th of Tishrei, 5747, with a heart murmer.
With God's help, after nine months of surgery and treatment in Israel and overseas, he was able to enter the covenant of Avraham Avinu. He lived a life of health and happiness of 11 years. On Succot, the 18th (chai) of Tishrei, 5758, motzei shabat, he suddenly passed away.

Dear Friend,
Talmud Torah is a unique educational enterprise encompassing children from kindergarten to Bar Mitzvah age who come voluntarily daily to learn Torah and develop their character and Midot.

The Talmud Torah is a part of Shilo, a 20 year old settlement situated in the heart of the Shomron.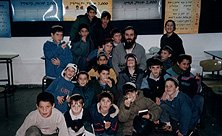 The Talmud Torah staff is comprised of excellent young devoted teachers who pass on the treasures of the Torah in a very close warm atmosphere to120 youngsters who come happily for a hour or two of daily learning after finishing school. Their love of the Torah is aroused through learning Tanach, remembering Mishnayot by heart, hearing exciting stories and participating in games, quizzes and field trips.
These activities are the best solution to one of the biggest challenges of modern times: providing constructive positive experiences in their free time.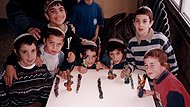 One of the prime accomplishments of the Talmud Torah is helping to raise a new generation of youth fully devoted to the learning of Torah and to the people and land of Israel. Many of our graduates are on their way to becoming distinguished Torah scholars with the power of inspiration that they first received in the Talmud Torah.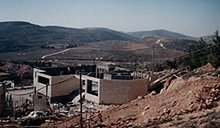 For many years we have been in need of a permanent dwelling which would be suitable for our unique activities and through which we could freely develop our educational programs and aspirations without clashing with the interests of others.
For the above reasons, we have raised with Hashem's assistance almost one million shekel of funding, and now we are on the verge of completing the boys' wing of the Chaim Mandelkorn Youth Torah Center, named after our dear student Chaim, who loved to learn and participate in the Talmud Torah's programs.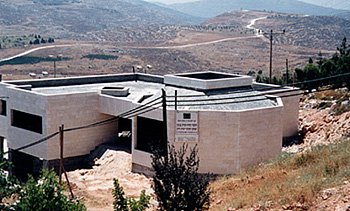 This center will be the home of the Talmud Torah and also house all the diverse youth Torah activities of our yishuv(village). It will also enhance our programs' possibilities and greatly increase the attraction of our youth to Torah and mitzvot, especially at this crucial time.
At this point we are still lacking $50,000 for the completion of the building itself, $50,000 for the landscaping development and furniture, and $100,000 for the second stage of the building, the girls' wing.
In addition, the parents of Yehuda Shoham would like to dedicate a classroom in his memory. His father, Benny, who runs the Talmud Torah, and they felt this would be a most appropriate memorial. The cost of a classroom is $18,000. Please send a note with your contribution, or by email, indicating that this money is to go towards Yehuda's room.
With your help and Hashem's blessing, we will finish the boys' wing this summer and dedicate the building at the beginning of the coming year.
We appreciate your joining our endeavor and having the special merit of completing this great mitzvah. The following dedications are available in the name of your beloved:
| | |
| --- | --- |
| Girls' Wing | $ 100,000 |
| Classrooms | $ 18,000 |
| Furniture | $ 25,000 |
| Library | $ 15,000 |
| Yearly supplement of activities | $ 15,000 |
| Sponsor of year's learning of | one class $ 15,000 |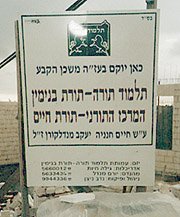 Checks should be payable to Torat Haim- Shilo, and can be mailed to:
Torat Haim - Shilo
Shilo D.N. Ephraim
44830 Israel

We are grateful for your generousity. May you be blessed with all the best.
Sincerely,
Administrators of Talmud Torah Binyamin Shilo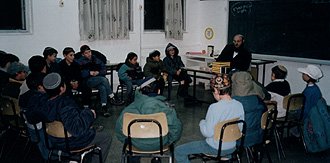 It is also possible to deposit a check in the Shilo fund in the U.S..
Chase Manhattan Bank
Dyckman St. and Sherman Ave.
NY, NY 10040
Account name ­ "SHILO FUND"
Beis Midrash of Queens.
Account Number ­ 066 1 137216,
All contributions are Tax-Deductible.
Thanks to Shilo,
who housed this site
and houses our family.
---